Events 2018
'Six Romances' and 'Romance à Joséphine' for voice and piano by Maria Szymanowska published by FURORE Verlag.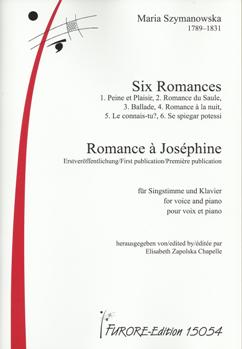 The score, presented in three languages (German, English and French), includes the Six Romances dedicated to Franciszka Kamienska, born Kochanowska, as well as the Romance to Josephine published in a world premiere in this version which comes from an Album made by the composer herself for her children.

The collection, published by FURORE Verlag was unveiled to the public during the Musikmesse Fair in Frankfurt am Main in April 2018.
The score (price 15€) can be ordered here, on the web page of the publishing house.
An article about Maria Szymanowska and her melodies, written by Elisabeth Zapolska Chapelle, can also be read in the issue No. 25 of the Tableau-Musical, a German magazine published jointly by the publishing houses FURORE, Merseburger and PAN Verlag.